---
Virtual Interactive Escapade Workshops
(V.I.E.W.)
with French Escapade and Evelyn Dunphy
"Paint Live from your home with Evelyn and fellow artists"

July 27 and 28th
Two sessions 3 hours each
with follow up with Evelyn as wished
1:00 – 4:00 pm EDT
$178.00
Click on this V.I.E.W. link for full information
and send an email to
contact@frenchescapade.com
to sign up
---
Let's go to Giverny and paint flowers and reflections! I know many of you have visited those gorgeous gardens and strolled through the grounds. Perhaps another year we will go back. In the meantime, we will use our imaginations and imagine the scents, feel the breezes and engross ourselves in the sights of this beautiful place.
After searching through my photographs, I chose the wisteria that tumbles over the bridge into that magical pond with its water lilies. Reflections, soft edges, there is a wealth of watercolor techniques to be explored in this scene.
Rather than copying one photo, I am composing a painting from three different photographs, which I frequently do, and I will send a photo of the completed painting to you, along with a sketch as soon as you register.
This is one of two color studies that I am doing in preparation. I do these to decide what palette I think will best express the idea that I have for the painting. As you know from seeing photographs and especially Monet's paintings, it is a riot of color, and so a decision must be made!
This is not a finished painting, obviously, but it will show you the kind of subject that we will be painting. We'll do an impressionist interpretation that I hope you will enjoy.
Please read the workshop description here.
---
---
An exploration of one possible color palette
Here is a link to the full description that is on the French Escapade website.
The supply list will be send out as soon as you register. I encourage you to sign up early if you want to attend, as it will give you time to get any supplies that you may not have. Everyone reports delays in getting shipment of pigments or paper.
---
Here are a few images that show how I paint reflections and flowers of different kinds. My goal is always to have them look "alive", organic and luminous. I am excited about painting the wisteria. I can almost see just how they will look as they fall towards the pond, with the bridge showing through in places.,
I do think it is important to be able to visualize your painting before you even begin. Perhaps my color study and these photos will get your imagination flowing!
---
A detail of a large painting of a lily pond.
---
Two flowers – two concepts, one realistic and one very much a wet in wet application. We will be using some of both techniques in our painting of the wisteria and lily blossoms at Giverny.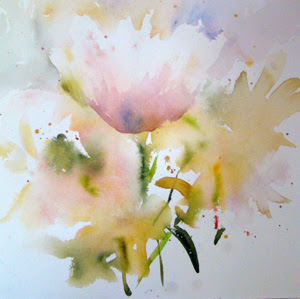 ---
Remember, just send an email to contact@frenchescapade.com to register for the workshop.
In case you may be apprehensive about the practical side of signing on for an online workshop, put your mind at rest. There will be a 30 minute group test prior to your online painting session to make sure you are comfortable using the application.
You will receive an email with a link to the meeting, which will be on July 23 at 7:00 pm. EDT.
Hope you and your families are keeping safe.
I will be very happy to see you at our July workshop in Giverny!
Happy Painting!
Evelyn
Evelyn Dunphy Studio
596 Fosters Point Road
West Bath, ME 04530
207-443-5045 (home)
207-449-7057 (cell)