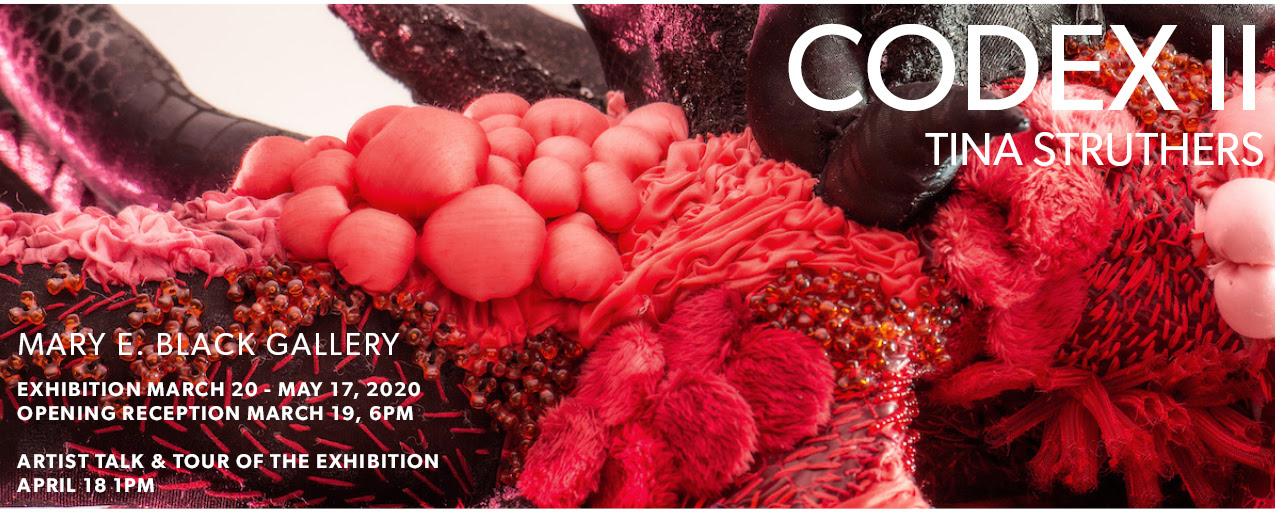 Codex II
Tina Struthers

Mary E. Black Gallery
1061 Marginal Rd. Suite 140, Halifax, NS
Opening: Thursday March 19, 6pm
On view: March 20 – May 17, 2020
FREE ADMISSION
Tuesday – Friday: 9am – 5pm
Saturday & Sunday: 11am – 4pm
Tina Struthers is a Quebec based Canadian textile artist born in Cape Town, South Africa. Her solo exhibition Codex II launches March 19 at the Mary E. Black Gallery. Struthers' large-scale textile sculptures and murals explore the uncertain and mutable consequences of humans on our environment. Her personal experiences and observations of immigration and human dis/placement are reflected in the forms and surface treatment of her work.
The collection of works in Codex II cast alien silhouettes with textured tendrils reaching from soft, stuffed sculptures. The forms are drawn from flora and fauna of the multiple places Struthers has called home and the material processes she uses mirror the metamorphosis that our natural world perpetually exists in. "Never static, their ever changing realities are only visible to us in time as we experience it. This quality of change, of imperceptible movement into decay on one hand and exuberant growth on the other, is one of the things that inspires my abstractions." – Tina Struthers
Beyond this biological shifting, is the constant of human intervention as we migrate across the surface of the earth, effecting, destroying, growing and creating. The fabric of each sculpture and mural is embellished, stitched, torn, and repaired, covering every inch of their surfaces in detailed interventions. Struthers says her process "is anchored in creating sculptural forms and clothing them in contrasts. Through shredding, cutting and the destructive manipulation of textiles, scars and wounds are created that are then often mended with hand stitched and layered fabric elements."
Please Join us for an opening reception of Codex II on Thursday, March 19th at 6 pm. Tina Struthers' opening reception will also celebrate the launch of Carley Mallally's residency in the Craft LAIR adjacent to the Mary E. Black Gallery. Please come and celebrate both of theses spectacular and boundary pushing textile sculptors.
Tina Struthers will present a talk and tour of the exhibition on Saturday April 18 at 1pm. We invite the public to this wonderful opportunity to meet Tina Struthers and hear about her work in an intimate and interactive setting.
Facebook Opening Reception Event Page:
https://www.facebook.com/events/572306200036690/
Facebook Artist Talk & Tour with Tina Struthers Event Page:
https://www.facebook.com/events/540366240166828/
Public Inquiries
Anna Joan Taylor
Administrative Coordinator
centre.admin@craftnovascotia.ca
902-492-2522
We respectfully acknowledge that The Mary E. Black Gallery and the Centre For Craft Nova Scotia are situated in Mi'kma'ki, which is the unceded, traditional, ancestral territory of the Mi'kmaq people.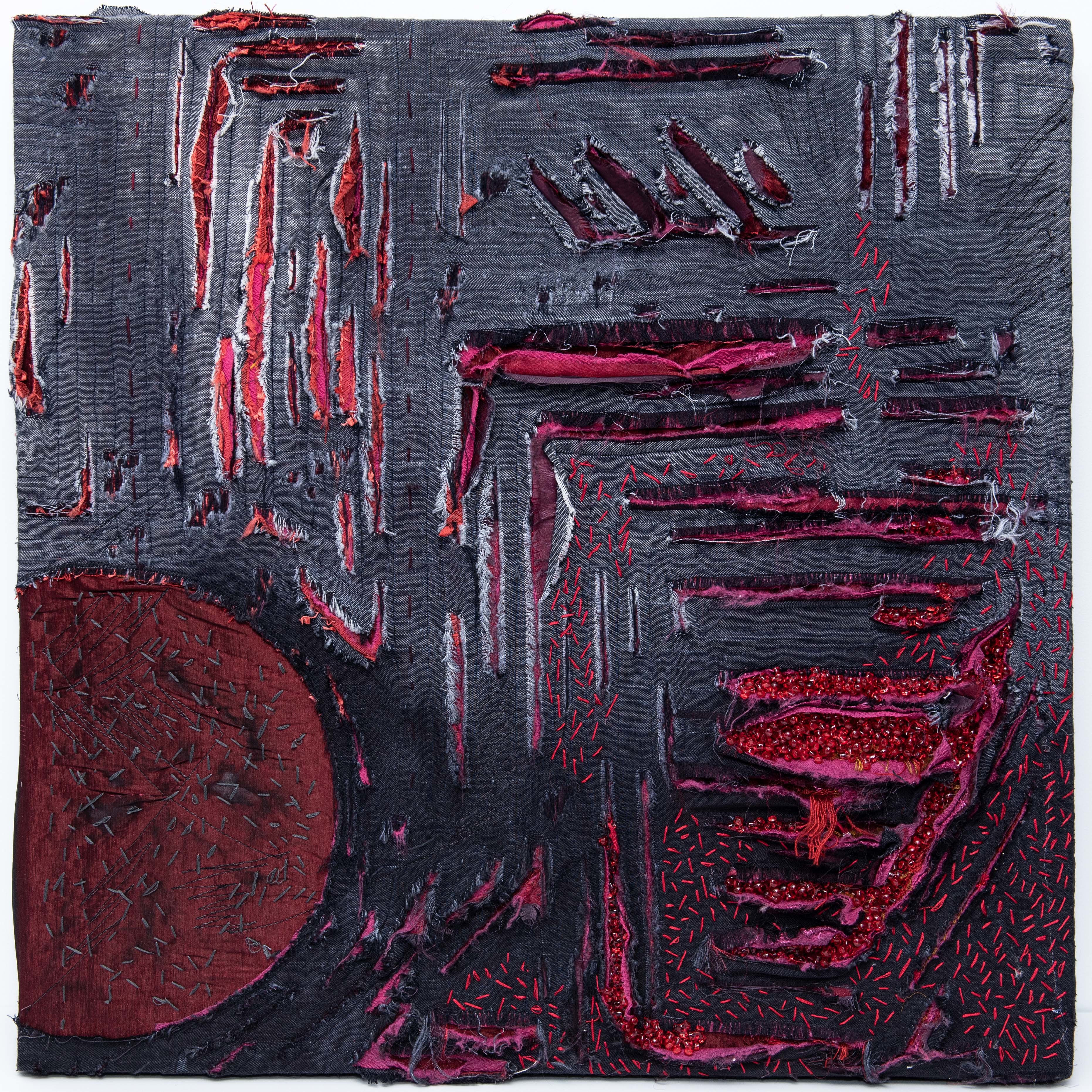 Threads
Linen, taffeta, silk, thread, beads
Dimenions: 24″ x 24″
Photo credit: Myriam Frenette