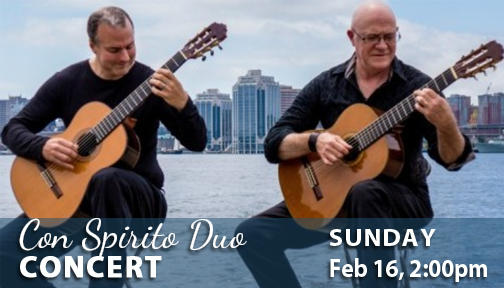 Visual Voice Fine Art is proud to present Con Spirito Duo in Concert at the gallery.
Con Spirito Duo performs a delightful mix of Classical, Ragtime, Celtic, Spanish, and Pop guitar duets accessible to all audiences. As a rarified musical presentation the guitar duo of Jason Giles and Victor Fraser maintains the integrity of Concert Guitar performance. While highlighting their individual talent and collective musical synergy they engage the listener in a unique and seldom seen artful interpretation of confidence, and experience.
Their debut album "Introducing….Con Spirito Duo" was nominated for Classical Recording of the Year 2018 by Music Nova Scotia.
Hear them here: https://youtu.be/Y-YBIYolR_o
Feb 16 Sunday 2:00-3:00 pm only $15 per person at the door.
Doors open at 1:30 pm. Limited space.
100% of the proceeds benefit the performers.
Visual Voice is located at 128 King St, Truro, NS