This Does Not Authorize Re-Entry
Jenny Yugia Shi
In The Craig Main Gallery
November 6 – December 1st
Opening Reception Wednesday, November 6, 5-7pm
Artist Bio
Jenny Yujia Shi (she/her) is a visual artist residing in Halifax/K'jipuktuk. She came to Nova Scotia in 2009 from Beijing, China on a student visa to attend NSCAD University. Her practice has ranged from painting, drawing, printmaking and most recently, site-specific mix media installations. Shi cares deeply about the struggles of individuals who have been impacted by migration, forced or voluntary, and live without secure status. Shi considers her continued involvement in community based projects an integral part of her livelihood, art practice and connection with the canadian east coast.
Artist Statement
On September 6th, 2009, I arrived in Canada, 18 years old. On October 3rd, 2019, I became a permanent resident of Canada.
With my newly-granted status, a decade of uncertainty and insecurity has begun to recede. What remains, however, is sorrow for the rupture with my birth country. This long-awaited reward is bitter sweet.
This Does Not Authorize Re-Entry marks the end of my ten year period living in Canada as a temporary resident. I take this opportunity to explore and reflect upon the process of navigating through the Canadian Immigration system.
In 2013 memories of my Beijing childhood began to emerge in my work. When I was 9 years old, the ancient Hutong neighbourhood where I'd grown up had been demolished by government order. My family, along with many others, was forced to relocate. My experience of this early dislocation drew a parallel with the impermanence and vulnerability I felt as a temporary resident in Canada. Symbols and phrases taken from my immigration documents, which I see as mark-makings of personal history, are paired with and embedded in this body of work. This exhibition illuminates a single theme: the psychological impact of displacement over a period of time and a self-hood pieced together with numbers, abbreviated codes and a passport.
A new installation exploring the new rise in feminity, feminine power, and the residual tension that remains between old and new ideals- which are still being defined…
I've been collecting and creating these materials for years and I'm excited to finally see this project find its voice.
---
"Old Habits
Installation by Lee Cripps
In The Craig Case Galleries
November 6th – December 1st
Identity. It's a fully loaded phrase. It means many things to many people in various contexts.
It's certainly a phrase with which I've sashed through the depths of my mind throughout my life to date. As a child born as a result of rape, left to be raised by my Great – Grandparents (Mom & Dad), who died far too soon in my life… With half of my birthright unknown, and a hefty serving of incredibly old fashioned values, milk and creamer included, enshrouding my subconscious like the soft pink angora sweater Mom wished I'd wear daily, I often wonder who I am and where I come from. I was stricken with a strong will and a rebellious spirit and come adolescence, began laughing in the face of femininity as we knew it. I embraced a gothic stature and haunted my former life like the Ghost of Lee Cripps Past – and do to this day.
I now continue to wrestle daily – though now not nearly as self-consciously – with the duality of wanting acceptance, wanting to be everything I should be as a woman – attractive, feminine, soft but fit, slim, agreeable and willing to accept help when carrying a heavy object… I'm now nearing 50 and any slim chance of achieving these goals are quickly sliding out of reach (though really, how close did I ever get). But good. Without fewer challenges of impossible expectations and a phenomenal increase in self acceptance as I concede to growing older, wider, greyer and give up on pleasing any construct other than my own – I build on feeling powerful.
This work is a celebration of a rise in women's power. A celebration of creating our own standards and values. A celebration of women as creators and for myself, that includes motherhood as well as finding power in what I create as artist. These mandalas are a celebration, an examination, a challenge. Of birthing There is wisdom in our loins, centuries of stories of birthing and rearing. Of moulding the human race, perhaps a tad melodramatic, but no less true – and no less powerful. "
November 6- December 1
Opening reception at The Craig Gallery on Wednesday, November 6th, 5-7pm
Free event and all are welcome
---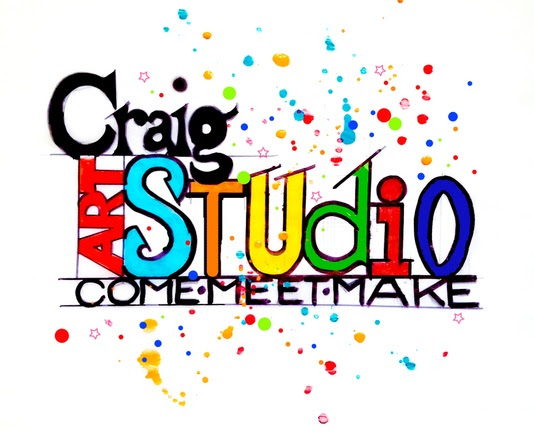 If you haven't yet given to our Craig Community ART STUDIO, NOW IS THE TIME!
We're very excited to announce that our SEED grant from the 4Cs Foundation has been released and we are in the throes of starting to build our first cart!
Please keep checking here or on our Facebook Page: https://www.facebook.com/CraigArtStudio/?modal=admin_todo_tour to stay up on the latest Craig Studio news!
If you haven't yet donated and would like to support this awesome project, do so here: https://www.gofundme.com/craigartstudio
We'll also take in kind donations of tools and art supplies!
Many thanks for your support!
---
Mailing address: The Craig Gallery, Alderney Landing, 2 Ochterloney Street, , Dartmouth, Nova Scotia, B2Y 3Z3, CA