LINDA KEMP


TWO SPACES have become AVAIlABLE!!


The Painter's Essential Landscape Class – Negative Painting
William Black Hall Peggy's Cove road
Glen Margret Bay Nova Scotia
The Painter's Essential Landscape Class – Negative Painting
Conjure the spirit of the landscape in this innovative program. Discover secrets and strategies for interpreting and simplifying the landscape as you build your painting from the ground up with overlapping bands and interlocking shapes.
Learn negative painting strategies and the successful sequencing of opaque and transparent glazes to create a luxurious patina and gentle glow in your work.
Explore brushwork techniques for creating textures and subtle transitions of delicate tints and muted hues and how to layer lost and found edges to suggest windswept meadows and distant trees. Investigate where to use captured negatives and establish minimal hard edges to gradually bring your work into soft focus.
Whether you work on location, from your imagination or photos, you will be amazed by this elegant, alternative method of creating the landscape.
The Painted CROW/ RAVEN – Stylized
Handsome, dark and smart – crows make ideal subject matter for contemporary, stylized painting when building with layers and blocks of shapes. We begin with a experimental underpainting to create the texture and color of darks feathers. The basic bird shape will emerge by negative painting techniques with layers of transparent and opaque acrylic. Add final embellishments and details with paint and colored pencil to give your crow personality!
Receive handouts about structure, proportions and placement of forms. Bring crow photos or use the resource material and handouts provided.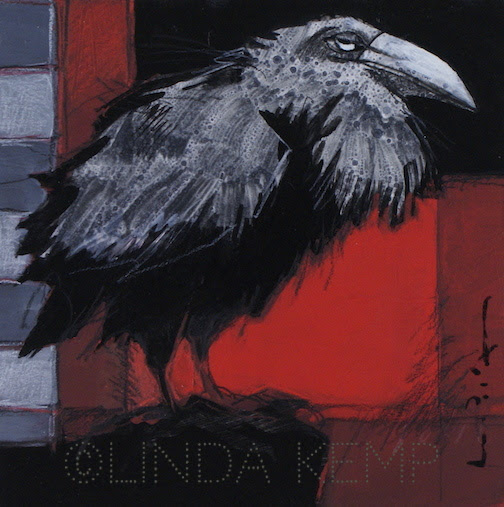 for more info cost $350. per person to register email Sandi stsomk51@hotmail.com or call 902-962-3612
supply list on registration
---
Recent Articles:
2019 in Shediac. Cercle des Artistes Peintres de Shediac (Caps).
Watercolours with Sandi Komst
Dominique,s Window France
Limoux View France
Souris Beach Shed
---
Our mailing address is:
Out of Our Minds Gallery
PO Box 87
Murray Harbour, PE COA 1VO
Canada