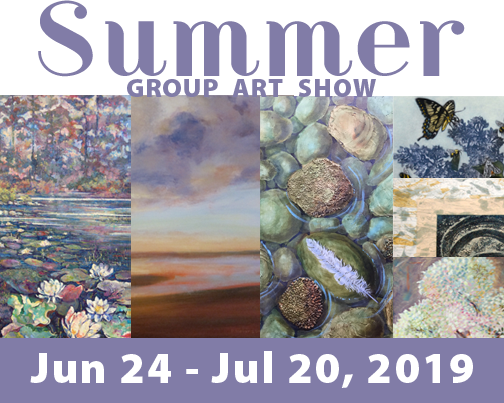 Visual Voice Fine Art presents its annual Summer Group Art Show. An interesting show with a great variety of subjects, styles and media, including tapestry, etching, oil, acrylic, mezzotint, silkscreen, relief, encaustic, sculpture, and mixed media. Featuring artists: Anna Syperek, Kate Georgallas, Nora Gross, Paulette Melanson, Carol Morrison, Ed Porter, Dorothea LeBlanc, Robert Rutherford, Kath Kornelsen, Judy Arsenault, David MacFadden, and welcoming Kate Ward to our gallery family.
The show continues until July 20th, at the gallery's regular hours: Mondays, Wednesdays, Fridays, and Saturdays from 12:30 to 5:00 pm.
Keep informed by subscribing to our newsletter or following us on Facebook. .
---
Landscape painters have traditionally used on-site sketches as a preparation for studio works, usually in pencil, ink or watercolour. Plein air painting has gained popularity in recent years, and an increasing number of artists now paint their final works outside. The appeal is being outdoors, closer to nature, and to work quickly and freely to capture the scene before conditions change.
Painter Carol Morrison will introduce you to the different materials and techniques, along with a power-point presentation on the history and famous artists of plein air painting.
Jul 11 Thursday 1-2:00 pm — FREE
Limited space, no drop-ins.
Pre-registration required by calling: 902-843-946
Visual Voice is located at 128 King St, Truro, NS