March Break is almost here!
Ross Creek's March Break day camps are fast approaching, but you can still sign up for some of the programs.
All Ross Creek Arts Camps are taught by professional artists and lead by fabulous counselors. Whether it's creating a masterpiece, having an outdoor adventure, or making new friends, our camps have something for every kid! Find out about some of our instructors here.
Ages 4-7: Explore a theme!
Ages 8-11: Develop new skills!
Ages 12-18: Advance & excel!
Camps are individual days, and run from 9am to 5pm, with each day different from Monday to Friday.
Along with our arts programming, campers enjoy different daily indoor and outdoor recreation, such as: our 'Maple Magic' tour, campfire (with s'mores!), games, hikes, and a Creekster hunt!
Camp price includes our kid-friendly, nutritionally considered lunches as well as a healthy midmorning snack. Our in-house chef also offers an optional afternoon tuck shop that serves a selection of homemade treats ($1/ item)!  Find out about our chef here!
---
Hiring both permanent and summer staff now!
We have a fabulous team at Ross Creek, creating magic for our local, national and international community, all while on this spectacular landscape. If you want to be part of that magic, why not apply?
See our hiring values here
See our open positions here. 
---
Two Planks nominated for Theatre Awards!
The Robert Merritt Award Nominations for Professional Theatre in NS came out last week, and we are beyond thrilled at Two Planks to have our work recognised and to be in such wonderful company! Congratulations all colleagues!
Two Planks received the following Theatre Nova Scotia Robert Merritt Award Nominations:
Outstanding Production (Animal Farm)
Outstanding Direction (Ken Schwartz, for Animal Farm)
Outstanding Play (Allen Cole and Ken Schwartz, for Animal Farm)
Outstanding Costume Design (Jennifer Goodman, for North Mountain Vanya)
Outstanding Performance by a Lead Actor (Female) Burgandy Code, Animal Farm
Outstanding Performance by a Supporting Actor (Female) Geneviève Steele, Animal Farm
Outstanding Performance by a Supporting Actor (Female) Burgandy Code, North Mountain Vanya
Outstanding Performance by a Supporting Actor (Male) Ryan Rogerson, Animal Farm
Outstanding Performance by a Supporting Actor (Male) Jeff Schwager, Animal Farm
Outstanding Musical Direction (Allen Cole, Animal Farm)
Outstanding Score (Allen Cole and Ken Schwartz, Animal Farm)…
The winners will be announced at the Theatre NS Merritt Award Gala on Monday, March 25 (produced by our own Ken Schwartz), and regardless of who brings home what, we just want to say…Outstanding. It takes an extraordinary company of people to make such work, and we are thrilled for all our team, as well as for our colleagues across NS doing wonderful work.
Thanks to you for all your support! You can read an interview with Ken about the season here.
Photo: Ryan Rogerson as Old Major
---
Your fabulous evening makes our
fabulous theatre possible!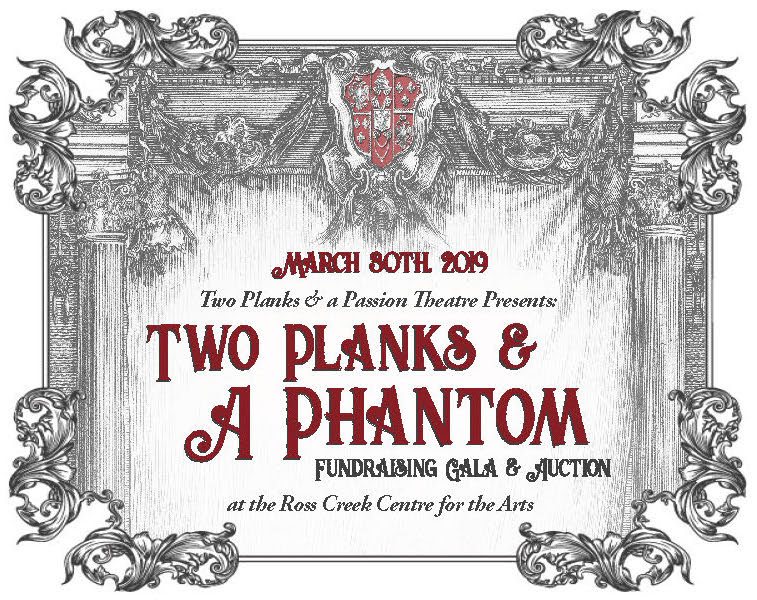 Join us on March 30 for a night of high drama, dancing, and delights! 
Our twisted version of a night at the Paris Opera comes complete with bidding wars, fine food, and much laughter along with some thrills.
The (slightly cheeky) celebrations begin at 6pm with cocktails, auction viewing and the first of the night's entertainment. Grand Banquet by Cocoa Pesto Catering and Art Auction at 7:30PM, with dancing to follow. 
Carriage Service is available locally from Wolfville, Kentville, and Coldbrook. 
1 ticket is $75 or purchase a table (8 tickets) for $580
Click HERE for tickets or call 1.902.582.3073
---
Academy Scholarships! Deadline extended
Ross Creek is pleased to offer full and partial scholarships for each Teen Arts Academy discipline! Theatre, Visual Arts, Film, Choreography, Writing and Music. The Academy is a two week immersive arts program providing professional direction and focus to help teens realize their inner artist. An exceptional faculty works closely with each student pushing individual growth while encouraging collaboration.
Kudelka Memorial Theatre Scholarship
Joseph Lappin Memorial Choreography Scholarship
Devour Film Festival Film Scholarship
Writer's Federation Writing Scholarship
Visual Arts Nova Scotia Scholarship
Ross Creek's Music Academy Scholarship
All scholarship applications will now be due March 31, 2019 and may require letters of reference, so please apply early. To learn more about about each scholarship and their application process please visit our website. 
Our mailing address is:
Box 190  555 Ross Creek Road, Canning NS, B0P 1H0